Last year's
anniversary post
is going to be a hard act to follow. (I would recommend reading it for the full story of our first year because I'm only going to hit the highlights.)
Two years ago today, Doug and I started dating. That sentence is factual but conveys nothing about what it means to be in love with him. For the past two years, we've chased our crazy dreams together. When things have gotten tough, he's stayed by my side so we could make it through together. Last night, we even had a contest to see who could write the mushiest thing to the other person on Facebook. He gets me in a way that no one else does.
We had been dating for about a month when he started planning to
bring me home
to his parents. Along the way, he also conspired with my best friend from preschool so that I could see her. We were only dating for three months when we drove up to
Ohio
to see his family and every day while we were there, he went out to play in the snow with me because I was enthralled by it.
For our six month anniversary, we did a
Bioshock-themed photo session
.
A few weeks shy of our one year anniversary, we had a
photo shoot
with
Savor Photography
. While the shoot was technically a Mother's Day present for my mom, there are a few super cute photos of Doug and I because we cuddled pretty much any chance we got.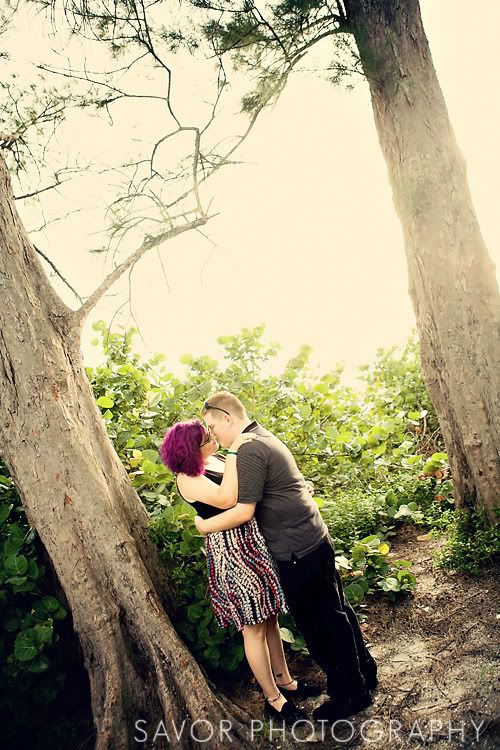 Our
one year anniversary
was so great that we are planning on reprising it tonight. Tijuana Flats, cupcakes, and dancing barefoot in the grass may not be everyone's idea of a romantic evening but to us, it's perfect.
The second year of our relationship has been slightly different. Sometimes I wonder how it is that he can still love me so much after I've dragged him on some of our crazier adventures. We followed in the footsteps of the
Barefoot Mailman
, which ended with Doug having to ride home on a yellow couch in the back of a minivan.
I surprised him with a photo shoot with
David McNeil
, who made us out to be rockstars.
We went to Universal Studios, Islands of Adventure, and the Magic Kingdom during the holiday madness so
our parents could finally meet
. Within half an hour of everyone meeting, we were operating as though we were one big family.
We explored
Coral Cove
with
Seth and Lexa
and I finally got to show him what I love so much about Jupiter's beaches.
We even went to
Mai-Kai
for my father's 50th birthday. (The photo below was taken by my stepmom.)
As you can see, this year's recap is not nearly as eventful as our first year's. For much of this year, I've had medical problems which have made my life more difficult. I actually had a
procedure
in March to correct an electrical issue with my heart. If the hospital had let him, I honestly think he would have spent the night with me.
A few weeks later, we went to
Epcot
. I worried leading up to the trip that I would hold him back and keep him from being able to see everything he wanted to; he responded by christening my wheelchair a "mobile photography unit" and pushing me around the park.
He loves me enough to help me dye my hair, uproot invasive plants, and dance on the roof of parking garages with me.
At the end of the day, these are the things that let me know that I am with the right person. He just gets me.
He went back to Crestview for the summer to intern at his local library. I didn't get to see him much but we spoke to each other online every single night. When he came down in June, we slept over the
Museum of Discovery and Science
.
The last time I saw him was a month ago. I flew up to the Panhandle to go to my best friend from preschool's
wedding
and while we were there, we got matching tattoos. I don't know how to put into words what they mean to me, let alone what they mean to him. In the simplest explanation, our ampersands are a sign of our commitment to each other. Doug
&
I are two halves of a whole.
But it's more than that. They're a visual reminder that every day, even when I don't see him, he loves me and I love him back. It's a source of strength I can draw on when I need an extra boost.
The ampersand also holds an extra meaning for me. There's a line from an
Amanda Palmer song
that has stuck with me since the day I first heard it: "
I'm not gonna live my life on one side of an ampersand.
" One of the strengths of our relationship is that we both have identities defined by more than just each other. I'm not just Doug's girlfriend; I'm a wonderful person lucky enough to be in love with Doug.
I feel like I've said so much less than in last year's entry, but I've also said so much more. This is what I left on his wall in the early morning hours today and it sums up the way I feel about my life with him in it.
"
For the past two years, you've been with me for better and for worse. Through the highs and the lows, you've been by my side with encouragement and kisses. The way you look at me, the way you stand by me, the way you *get* me in a way no one else seems to... I wouldn't trade it for anything and I don't know where I'd be without it. Thank you for being the one who chases my crazy dreams with me and loves me unconditionally. May the years to come be better than the years that have passed and may we weather every storm that comes our way together.
Always, forever, and a moose.
"